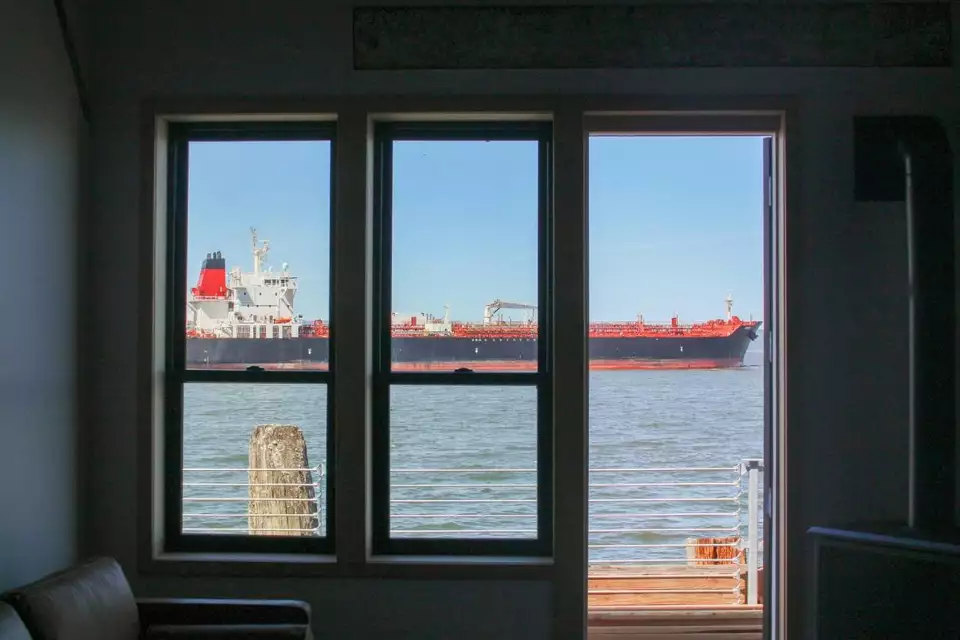 As I gaze out to the Columbia River, with clouds slung over the water and cargo ships dotting the scenery, the beauty does not escape me. I am contentedly situated inside an Ice House Suite at the Bowline Hotel, which sits perched along the water of Astoria, Oregon, with harping sea lions nearby. From my room, I can see the iconic Astoria-Megler Bridge, at one time the longest truss bridge in the world. 
Advertisement
Article continues below this ad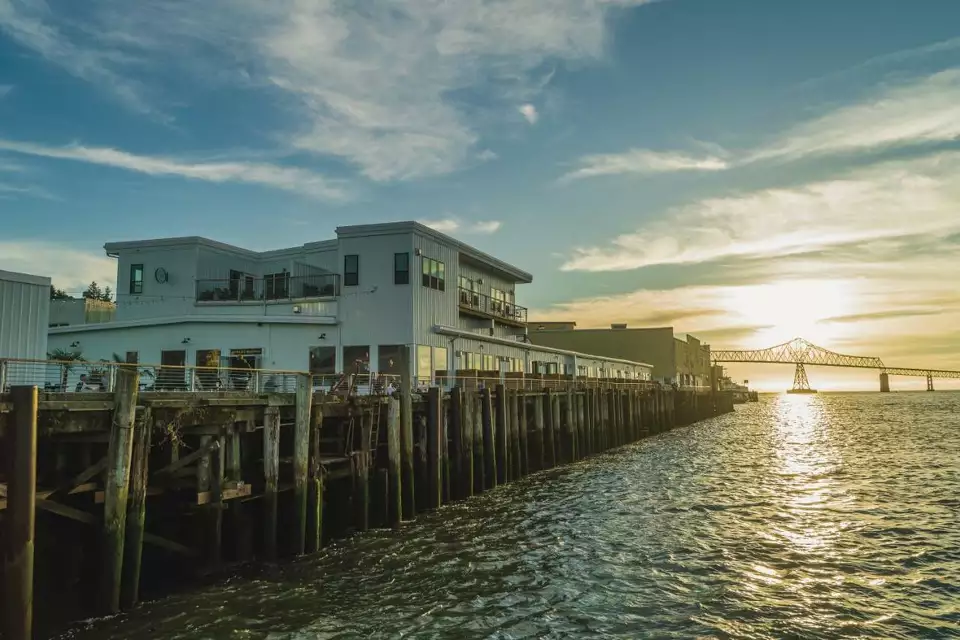 The boutique hotel is named after a type of knot used to secure a loop — in this case one used by sailors — and opened in summer 2021 in the port city of Astoria. Founded in 1811 by wealthy businessman John Jacob Astor, Astoria was the "oldest American settlement west of the Rocky Mountains," according to the city. It sits at the confluence of the river and Pacific Ocean, a waterway crossing that is considered to be one of the most dangerous in the world. Astor sought to transform the town into the epicenter of the fur trade but was surpassed by the success of the salmon industry. More than 40 canneries "lined the waterfront" by the late 1800s, according to the city, alongside an influx of immigrant workers from Finland, China and more. 
The 40-room Bowline Hotel was once a sardine cannery before undergoing a $5.4 million renovation headed by the prominent Adrift Hospitality. Two buildings make up the hotel, with the main building occupied by The Knot Bar, which serves breakfast, lunch and dinner along with refreshing cocktails and drinks. It also holds most of the rooms. Adjacent to the lobby are the Ice House accommodations, which feature two top-floor king rooms and a spacious suite on the ground floor.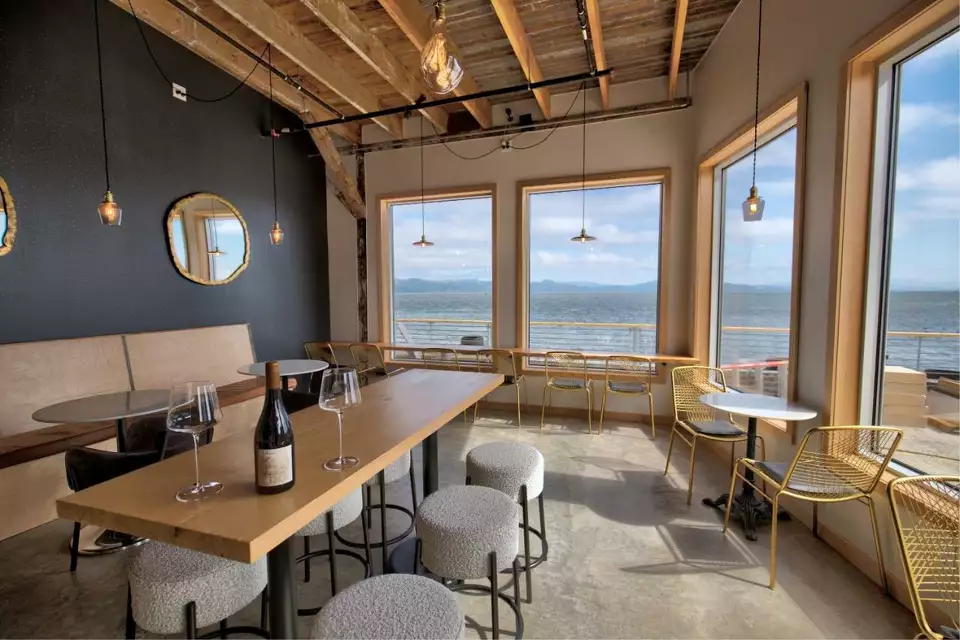 Much thought has gone into the design, architecture, and amenities of the luxurious hotel. Bathrooms are grand, some with soaking tubs one would find in a Nobu hotel, and showers are comfortable with good water pressure. Furnishings reflect simplistic Scandinavian aesthetics while high ceilings feature original beams throughout the property. Expect soaking salts, in-room ceramics and cozy blankets from local artisans and crafters. On our nightstand were two pairs of earplugs with the caption, "in case of sea lions." Their noises did not bother me, and I found it wonderful to see them swimming peacefully in the water.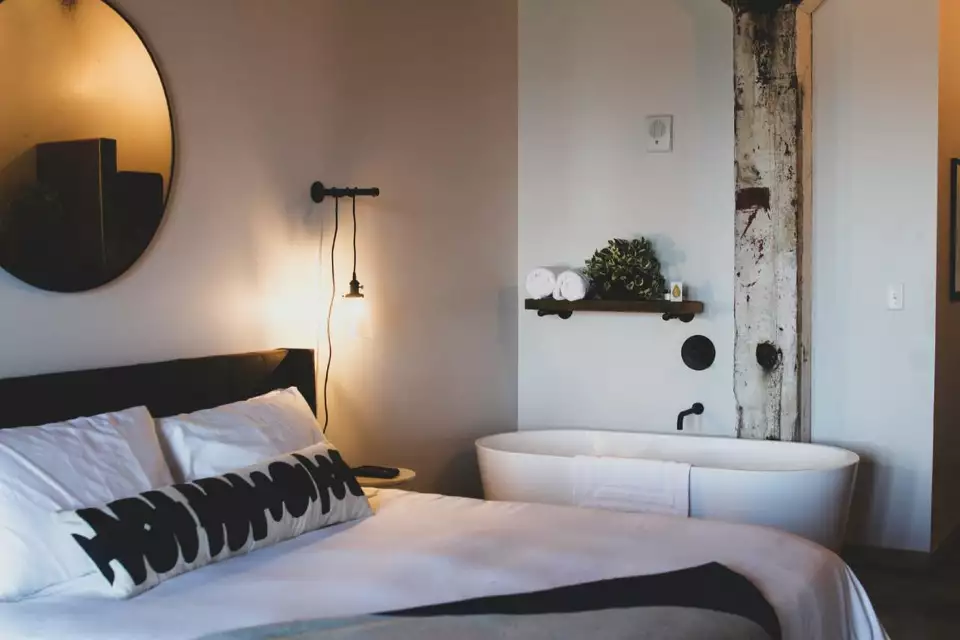 Winter is an ideal time to visit the Oregon coast because there are fewer tourists and lodging is more affordable; bring good rain gear along with warm layers. 
Things to do in Astoria
My husband and I came for a four-night getaway, which was the perfect amount of time for this eclectic town with an amazing food scene. We were so glad we made it to the Columbia River Maritime Museum, which offers a rich history of the region as well as a plethora of rotating events and lectures. 
Astoria has many underground tunnels that can be experienced through the Astoria Underground Tour, which allows guests to partake in a walking tour that lasts about 45 minutes. At the end, a guide is readily available to answer questions. 
A variety of outdoor adventures are close by. Fort Stevens State Park is a 20-minute drive from the hotel and offers beach access as well as many hiking and biking trails. Famed for shipwreck remnants from 1906 (they still sit on the beach), the 4,300-acre park is gorgeous and worth the trip. 
Cape Disappointment State Park, a 30-minute drive into Washington state, will not leave you disappointed at all. The 2,023-acre park sits along the Long Beach Peninsula and has two lighthouses and various lookouts and paths for hiking. The North Head Trail is a forested and easy hike that is an out and back, approximately 3.6 miles. 
When back at the Bowline after a day of activity, partake in the barrel saunas that offer privacy and warmth for tired muscles. The Knot Bar serves a wonderful breakfast that is reasonably priced and uses fresh local ingredients. During our stay, I tried a different item each day and enjoyed them all: savory crepe with beef rib, vegetable quiche, and fruit and granola. Service is friendly and impeccable.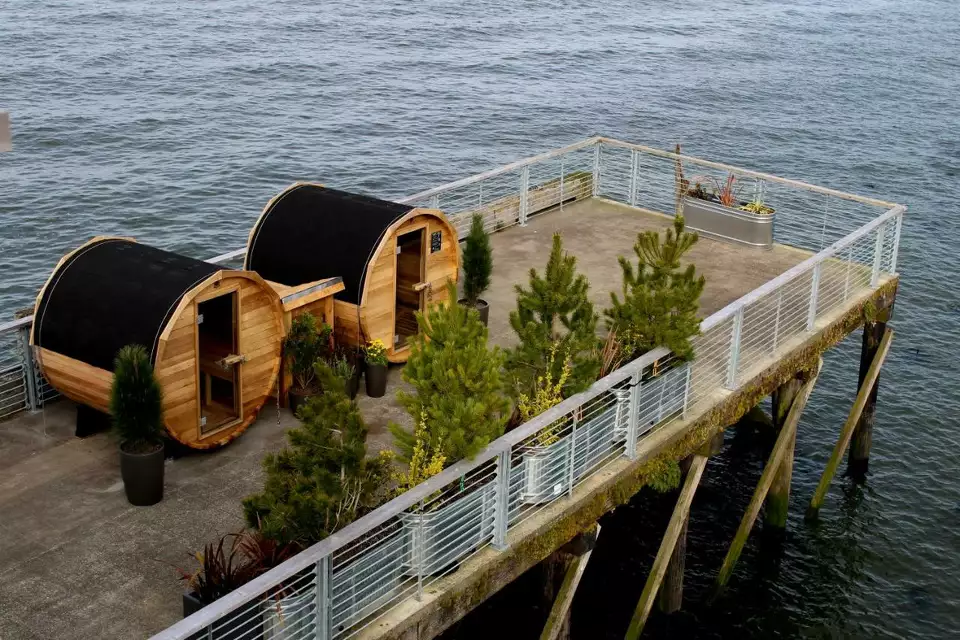 Lunch at Curry&CoCo Thai Eatery, a 16-minute walk from the hotel, is a must. It's owned by Nalinrat Sahunalu and Brian Fernandez, a duo that turns out authentic, flavorful curry dishes. Order the Penang curry and add your protein of choice; mine was tofu and chicken. The fresh rolls are vegetarian and come with a sweet and sour sauce that is out of this world. For an extra $3, order the traditional peanut sauce you can use with the rolls or spread over your white rice, which comes with your entrée. 
At 5 p.m. grab your spot in line at Būsu, where you order from a window and owner Kenneth "Kenzo" Booth whips up your meal. The menu changes daily and you get the details via the Instagram account — black miso cod and garlic stir fry steak are showstoppers. It's only open until everything sells out, which, judging from the lines, does not take long. 
If a dessert craving has taken hold, walk over to Frite & Scoop, where, you guessed it, the team sells fries and ice cream. Open year round, the shop rotates flavors and, truth be told, they are all delicious.
For more Oregon travel inspiration, check out our additional coverage below: