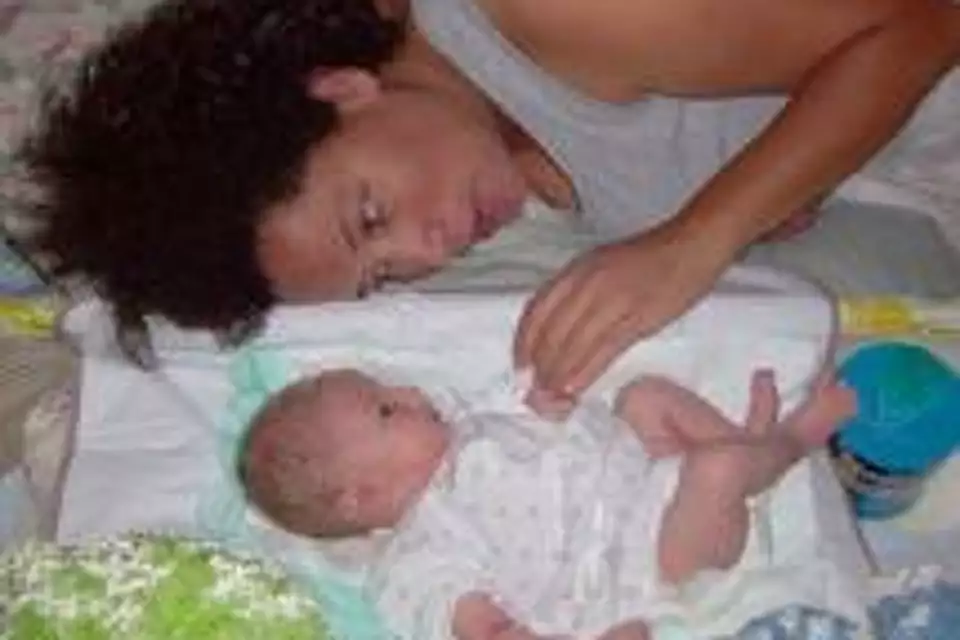 The 33-year-old woman who police said decapitated her infant son and ate parts of his body had been diagnosed with schizophrenia and postpartum psychosis before the slaying at a North Side home this weekend, the family said Monday.
Advertisement
Article continues below this ad
Otty Sanchez confessed to killing Scott Wesley Buchholz Sanchez on Sunday with a steak knife and two swords before mutilating the corpse and eating body parts that included the brain, nose and toes, police said.
She has been charged with capital murder and remained under 24-hour observation Monday at University Hospital, where she was treated for self-inflicted knife wounds.
The father of the baby now is asking that she "pay the ultimate price."
Advertisement
Article continues below this ad
"She was a sweet person and I still love her, but she needs to pay the ultimate price for what she has done," said Scott W. Buchholz, who referred to his child as "baby Scotty." "She needs to be put to death for what she has done."
Sanchez's relatives, however, are hoping authorities will take into consideration her history of mental illness, which included a recent diagnosis of postpartum psychosis.
"It's just tragic and unbelievable what happened," said Greg Garcia, Sanchez's first cousin who considers her a sister. "She was a good, hard-working person, but she had been diagnosed with schizophrenia last year."
The crime happened at Sanchez's mother's home in the 300 block of Wayside Drive sometime between 1:30 and 4:30 a.m. When officers arrived about 5 a.m. to find baby Scotty's mutilated body, Sanchez quickly confessed to the macabre crime, police said.
Advertisement
Article continues below this ad
"She was hysterical, screaming, 'I killed my baby. I killed my baby,'" said Police Chief William McManus.
Child Protective Services officials said that Sanchez had never been investigated by the agency prior to the killing. The agency on Monday was at the home investigating conditions, because Sanchez's sister's children, ages 5 and 7, also live there.
Police said the sister, the two children and Sanchez's mother were in the home at the time of the slaying. The adult women had each taken turns caring for baby Scotty at night so they could sleep in shifts. Sanchez's shift began at 1:30 p.m. Her sister discovered the baby's body about 4:30 a.m. and called police about 5 a.m.
The crime scene was so disturbing that the San Antonio Police Department has provided counseling services for some officers who entered the home.
Advertisement
Article continues below this ad
"Normally you don't see a scene of this magnitude in terms of the atrocity," McManus said. "When you do, it certainly leaves a lasting impression."
Sanchez told detectives that she was "hearing voices" and the devil made her kill the baby boy she had given birth to June 30.
The Bexar County District Attorney's Office will soon review the homicide detectives' recommended capital murder charge, which is punishable by the death penalty.
"You can still be prosecuted if you have some form of mental illness," said First Assistant District Attorney Cliff Herberg. "The test is if you understand the difference between right and wrong. The question is whether or not you know your act is wrong."
Advertisement
Article continues below this ad
Defense attorneys can request competency hearings to determine whether Sanchez is fit to stand trial.
Dr. Lucy Puryear, a Houston psychiatrist and author, said mothers who experience postpartum psychosis often have a history of other mental disorders, but in some cases childbirth triggers the psychosis.
"It's usually really severe," said Puryear, who wrote the book, "Understanding Your Moods When You're Expecting."
She testified as an expert witness in the case of Andrea Yates, who drowned her five children in Houston in 2001. While postpartum depression affects one in 10 mothers, Puryear said, the more severe condition of postpartum psychosis -- which includes hallucinations -- affects 1 in 1,000.
Advertisement
Article continues below this ad
Puryear said postpartum psychosis includes delusional thoughts, hallucinations and an altered state of reality.
"The scary thing is that the delusions are usually always about the baby," she said. "In all of the (high profile) cases, the thinking involves the babies: The mother had to kill the baby to protect it, or God has spoken to the mother and there is a mission to kill the baby or sometimes the baby is the devil who needs to be gotten rid of to save the world," she said.
Relatives said Sanchez's mental health had severely deteriorated in the week before baby Scotty's death. On July 20, she moved out of the home she was living at with the baby and his father near Windcrest on the Northeast Side.
That same day she checked herself into a hospital after hearing voices, but she soon checked herself out, according to a source familiar with the investigation but unauthorized to speak to the media. She then took the baby to stay at her mother's home in the 300 block of Wayside Drive.
Advertisement
Article continues below this ad
Buchholz called her every day to convince her to return to their home, to no avail.
"We were all trying to get her to come back," said Buchholz best friend, Matthew Maher. "She wouldn't answer her phone."
She finally reappeared about 2 p.m. Saturday at Buchholz's parent's home on the Northeast Side.
"We were so happy to see Scotty again," said his father.
Advertisement
Article continues below this ad
She was at the home for about 15 minutes when Buchholz told Sanchez that he needed a copy of baby Scotty's birth certificate and Social Security Card. The request seemed to "set her off," Buchholz said.
"She grabbed the baby and just said, 'I gotta go. I gotta go. I'm out of here.'"
The mother ran out of home with Scotty in a car seat. She left behind the baby's diaper bag and her purse, along with her medication. Buchholz said Sanchez threw the child's car seat -- with Scotty inside -- into the front passenger area of her car and sped away without buckling Scotty into the vehicle's front seat.
His mother called 911, and a sheriff's deputy arrived to investigate the incident as a disturbance, court records show. Later on Saturday night, while Buchholz was attending the Judas Priest concert, he received a cell phone call from Sanchez.
Advertisement
Article continues below this ad
"She told me she had found someone else and she never wanted to see me again," he said.
Police think she killed the baby about six hours later.
Sanchez and Buchholz met in 2003, while they were enrolled in the San Antonio College of Medical and Dental Assistance. The couple's volatile relationship was on and off for the past six years, but they became dedicated to making it work after learning she was pregnant last year, relatives said.
"She took really good care of herself during the pregnancy," said Buchholz, who also has been diagnosed with schizophrenia. "We were excited about having a baby."
Advertisement
Article continues below this ad
But Sanchez's mental health deteriorated soon after the child's birth. Her recovery was complicated by an infection, which required the use of a catheter for a week. Irritability progressed to a darker psychological state, and a postpartum depression diagnosis soon followed.
"She kept telling me she needed to see a counselor all the time," Buchholz.
During the pregnancy and first two weeks after baby Scott's birth, the couple lived together in a rented house on the Northeast Side.
The couple paid for the residence with his monthly disability checks and her job as an in-home health care provider for senior citizens. She worked until about two weeks before she gave birth. Acquaintances described Sanchez and her mother as devout Jehovah's Witnesses."They would come up to our door every so often, but I told them I was Catholic, so they left," said Elaine Calchin.
Advertisement
Article continues below this ad
Buchholz's mother, Kathleen, said she had no idea that Sanchez had been diagnosed with the same mental illness her son had. She thought that baby Scotty was the best thing that could have happened to the troubled couple.
She is not sure what should happen to the baby's mother.
"I have mixed emotions," she said. "She needs to stay under psychiatric care. I love her. She was like a daughter. I don't want her out at this point, but that may change."