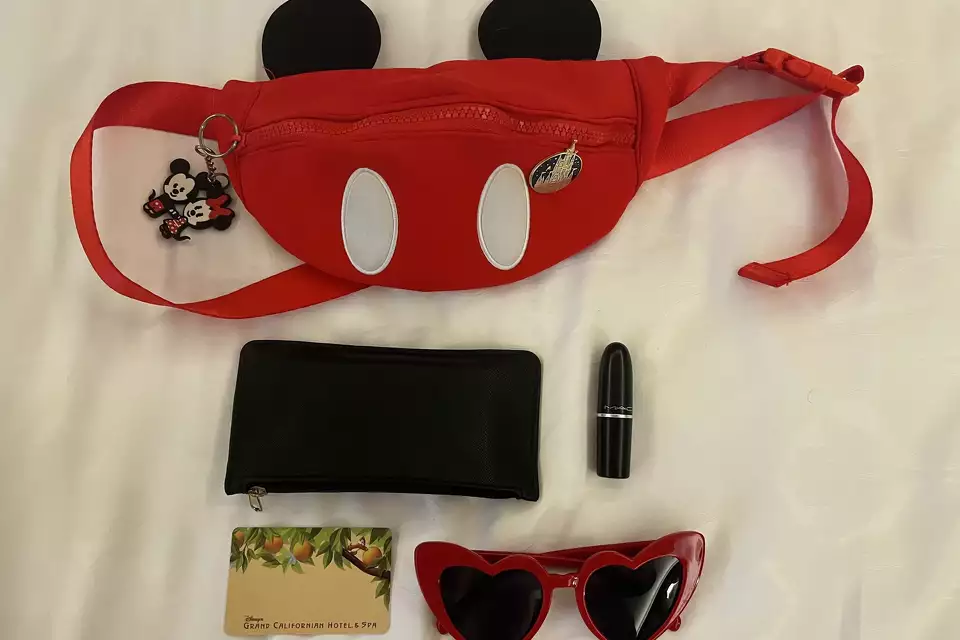 When I head to Disneyland I'm often sporting either a backpack or a fanny pack. Backpacks are great for cooler months so sweatshirts can be stored, or for times when I know I'm going to be buying a lot of souvenirs, but fanny packs are ideal for warmer months, and days that I'm not going to be in the parks from the moment they open until the last sparkle of the fireworks fade away. 
Advertisement
Article continues below this ad
I've been using the same Mickey Mouse-themed fanny pack for years. I love that it matches my Disney-inspired outfits, it has a large pocket, and the zipper rarely gets caught on anything. Like most younger people, I wear my fanny pack around my upper body like a crossbody bag. This is especially helpful at Disneyland, where lap bars on ride vehicles can make wearing a fanny pack around the waist uncomfortable on attractions like the newly opened Mickey and Minnie's Runaway Railway.
While the exact fanny pack I carry is no longer available to buy, there are some similar options available to shop right now. 
This Mickey Mouse fanny pack is this white and black option that features Mickey peering over the edge of the fabric. The bag has one large pocket that takes up the front of the fanny pack, and another smaller pocket at the back of the bag. The smaller pocket is good for valuables like car keys or your hotel room key. The waist strap can be adjusted up to 46 inches, so it should fit most people as a fanny pack or a small crossbody bag.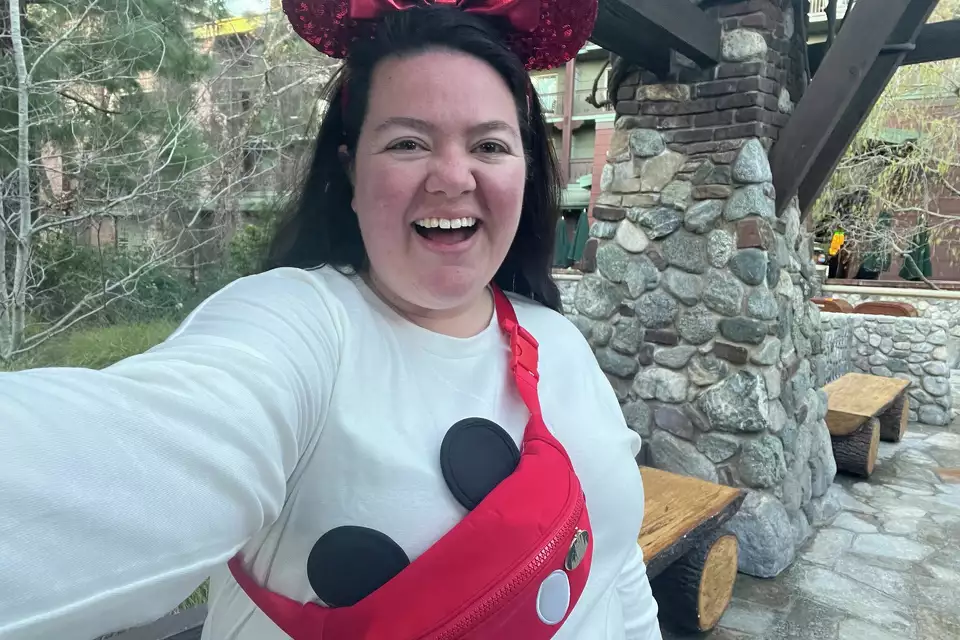 An option that looks closer in style to the one I have is this Mickey Mouse fanny pack by Loungefly. The bright red front section of the bag is reminiscent of Mickey's iconic red shorts. I also love the black ears sticking out on the back of the bag, adding to the Mickey Mouse look. There is one large compartment that should fit everything that's needed for an easy park day. The strap is adjustable so the fanny pack can be worn in a few different ways. 
Both of these fanny packs and the one that I use are small, so I have to be strategic about what I put in my fanny pack for a day at Disneyland. This is my essential list. 
On the outside of my fanny pack, I always add a little bling in the form of a trading pin. The exact one changes based on what park I'm going to or if I actually want to trade the pin with a Disneyland Cast Member.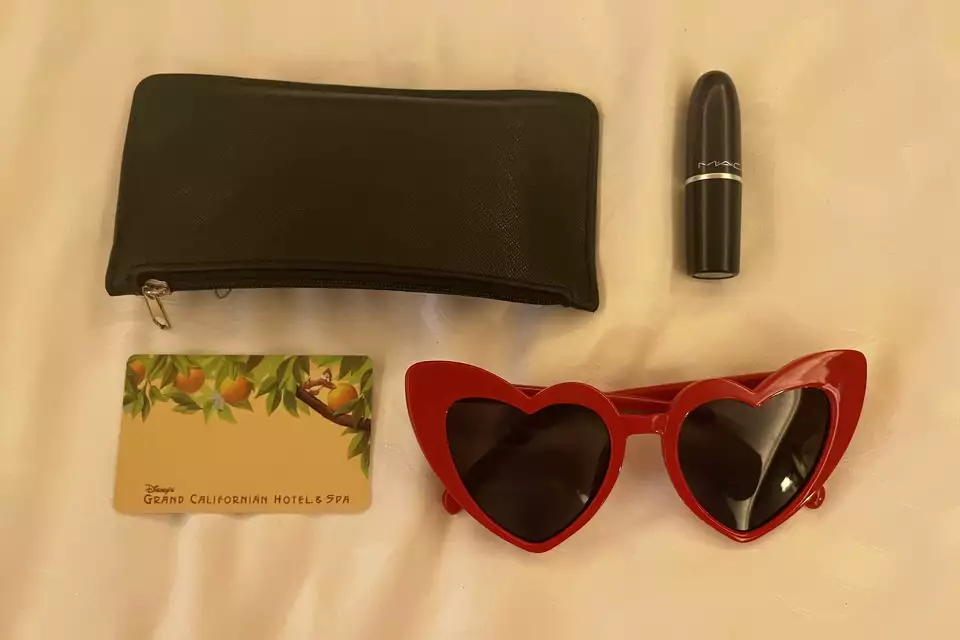 One that I would wear to Disneyland to celebrate the kickoff of the Disney100 celebration is this pin featuring Mickey Mouse and Pluto in their new platinum-inspired outfits. The glitter accents will sparkle and shine in the sun, and make the characters on the pin stand out even more. 
Inside my fanny pack, I always have my wallet. I love this card case for Disneyland because it has six slots for all of the essentials like my park ticket, room key, credit cards, and ID. The zipped area is where I keep my emergency cash, just in case Disney's payment systems aren't working and I need to use tangible money for something. There is also an open pouch between the slots and zipper area where I keep my business cards and store any receipts I get. The card case comes in multiple colors, including a fun bright pink and classic black.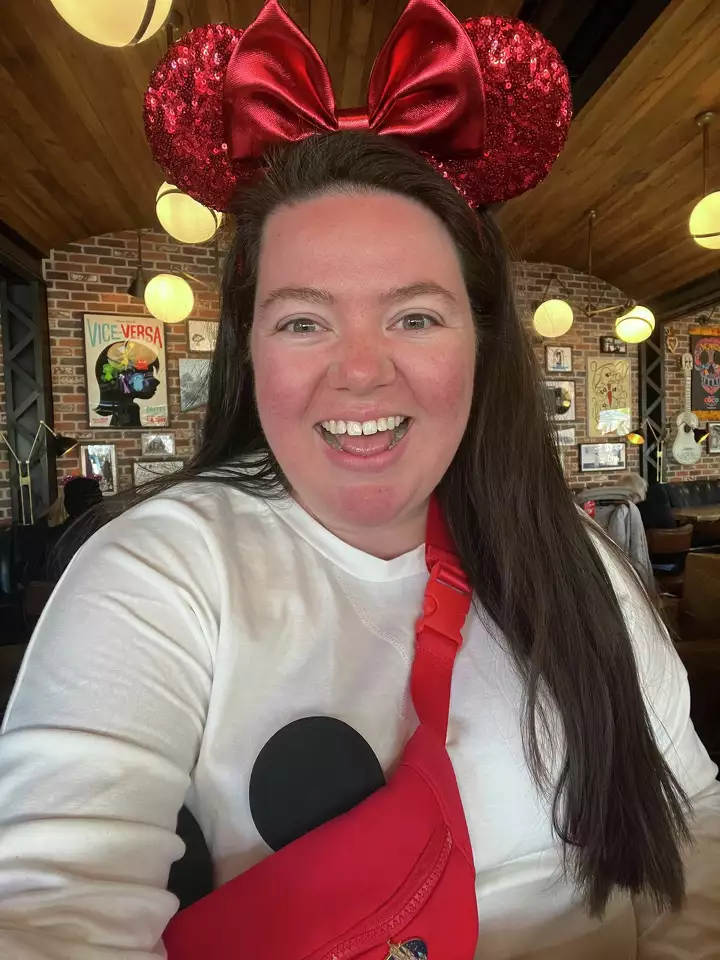 One of my favorite lipsticks is the MAC Matte Lipsticks in Red Rock. The classic red looks great with almost every Disneyland outfit I put together. The lipstick is easy to put on and just needs minor touch-ups during the day. I also love that the packaging for the lipstick is minimal, so it doesn't take up very much room in my fanny pack. 
Sunglasses are a must-have for me at Disneyland. Even if I forget lipstick or a pin, I will return to my hotel room after I've started to walk to the park if I've left my sunglasses behind. My go-to sunglasses for Disneyland are these red heart-shaped sunglasses. Because they are plastic frames, and under $10, I don't worry about losing them on rides or accidentally breaking them. The lenses have a very dark tint to them, which is ideal for the bright California sun. If red isn't your color, these glasses come in a wide variety of colors including black, yellow, white, and transparent pink.